It has been reported by CNET about a newer eSATA Hub coming directly from LaCie which gives you the option to connect an external eSATA drive to your Mac that comes with Thunderbolt.
This brand new hub includes two Thunderbolt ports too with also two eSATA ports too. Any users can connect their own eSATA drives, but only up to two of them to be used on their Macs that have Thunderbolt. The ports for Thunderbolt can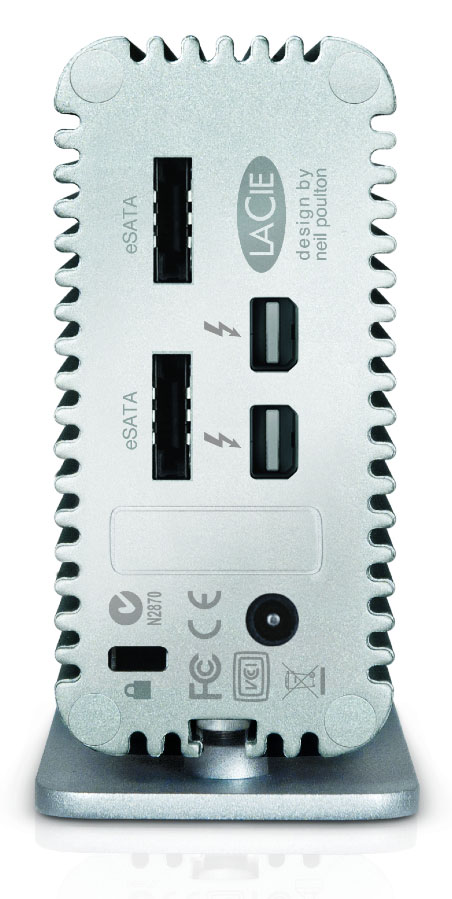 also be utilized with the daisy chain that is additional to the Thunderbolt components off the device itself.
The higher performance of the eSATA drive connector is utilized to allow connections of external hard drive to your Mac. The eSATA drive connection has never actually been an option for the Mac as a standard, though it's a much faster alternative to USB 2.0 by far, while Firewire is very common to be found on higher performance external drives already, and storage arrays too. Cnet has also noted that eSATA drives are currently cheaper than any of their counterparts, Thunderbolt. As Thunderbolt has a much higher maximum speed than eSATA, if you decide to just connect one single external drive (and not specifically a drive array), it isn't likely to surpass the higher limit of eSATA.
For anyone who has an existing eSATA drive and they are currently waiting for the Thunderbolt drives to drop down in price, this could be a good temporary solution for now. Though unfortunately, LaCie has not pushed out a price yet for this new gadget, though the eSATA hub will be expected to be released during the very first quarter of 2012.